BlockMate Series Surface Milling Machine (not currently in production)
The new and improved BlockMate XL High Speed CBN Surface Milling Machine is our flagship surface milling machine and was designed for the high performance engine builder, whether automotive or diesel. The BlockMate has a 16″ cutter plate with capacity for surface milling automotive heads, V-style and inline blocks (5.9L Cummins and 3406 series included), intake manifolds and miscellaneous flat-surface parts such as carburetor flanges, flat flywheels and numerous industrial parts.  With 58″ of travel and 26″ deck height, it is the most compact machine with this capacity available.
See the BlockMate in Action
TS-3000 BlockMate Product Details
With our BlockMate Surfacer, any automotive head can be surfaced in six to eight minutes. Changeover time between cylinder heads and blocks is 45 seconds and it takes about twenty minutes to square deck a V-8 block. The versatility of this machine is unmatched and a superb choice for any automotive or diesel machine shop.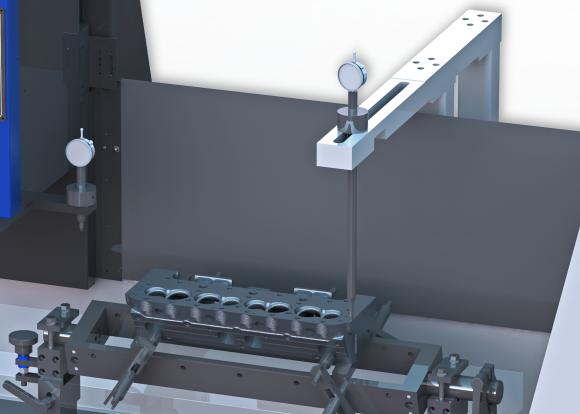 The Universal Cradle on all of our surfacers is revolutionary because it allows fine adjustment for all directions to ensure consistently precise measurement and cutting while keeping the part rigidly set in place.  It also holds down the work-piece at four points while pushing in and down, ensuring no movement once it's tightened down.
The sliding indicator bracket allows quick 4-point referencing of the cylinder head in relation to the cutter plate, ensuring that the head is straight without the need for leveling.  The speed of this process is unmatched in the industry.
Another key feature of our surfacers is the height indicator.  This indicator helps you set your work-piece height in relation to the cutter plate ensuring that you don't crash the tool, thus ruining the work-piece.  Again, this process is very quick and allows for expedited surface milling.
As with all of our surface milling machines, all tooling is included as part of the base package. You will be able to surface all of your cylinder heads and blocks without the purchase of ANY additional tooling. To see a comprehensive list of the tooling included in this package, click the Tooling List thumbnail or button below. You may also wish to take a look at our Brochure which can also be found via the thumbnail or button below.
Specifications
| | |
| --- | --- |
| Traverse Length | 58" |
| Cutter plate to table | 12-26" |
| Motor | 2 hp 220VAC 1 phase 7 amp |
| Power Requirements | 220V Single Phase |
| Traverse Motor | 180VDC Infinitely Variable |
| Cutting Speed | 300-1,150 (Infinitely Variable) 0-60 inches/min travel |
| Cutter Plate Diameter | 16" |
| Floor Space Requirement | 93.5"Lx46"Dx88"H |
| Shipping Weight | 2700 lbs |
| | |
| --- | --- |
| Traverse Length | 1473mm |
| Cutter plate to table | 460mm |
| Motor | 2 hp 220VAC 3 phase 7 amp |
| Power Requirements | 220V 3ø (Single phase with spindle motor speed control) |
| Traverse Motor | 180VDC Infinitely Variable |
| Cutting Speed | 1150rpm (300-1,750 rpm with speed controller) 0-60 inches/min travel |
| Cutter Plate Diameter | 406mm |
| Floor Space Requirement | 2375mmLx1168mmDx2134mmH |
| Shipping Weight | 1225kg |